Dear Readers,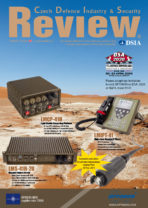 Let me introduce this year's first semi-annual CDIS Review, this time being published on the occasion of the international fairs ENFORCE TAC and IWA in Nuremberg, DSA in Kuala Lumpur, IDEB in Bratislava, KADEX in Nur Sultan and ADAS in Manila. Representatives of the Embassies of the Ministry of Foreign Affairs in aforementioned countries where trade fairs will be held prepared for this issue interesting information concerning mutual cooperation with the Czech Republic.
We are very pleased that the Ministry of Foreign Affairs, the Ministry of Defence and the Ministry of Industry and Trade perceive this magazine as an important periodical that helps to present the Czech defence and security industry abroad.
The CDIS Review and the Czech version of the Defence and Security Industry Review have been the media platform of DSIA CR from the very beginning. Most of the companies being presented in Review are the members of the Association of Defence and Security Industry which to date counts over 100 members.
On 14 January 2020, the traditional annual editorial board was held at the Ministry of Defence of the Czech Republic with the subsequent award ceremony. Our publishing house and the editorial board of the Review magazine awarded personalities, companies and products of the year 2019 in the area of defence and security industry. The coverage from this event can be found at the end of this magazine.
I believe that you will find here a lot of interesting information about the czech defence industry and we look forward to meeting you at the above fairs.
Šárka Cook
Editor-in-Chief
Elektronická verze časopisu
: