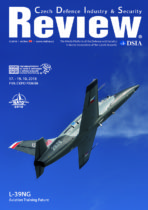 Dear readers,
"Our security cannot be taken for granted, and there is no prosperity without security" is the motto of the NATO Days and Czech Air Force Days event held in Ostrava on September 15 and 16, of which the MS Line Publishing House is a media partner. The outstanding event has had a general partner for two years now, Aero Vodochody, the most important and largest Czech aircraft manufacturer. You will learn more about its L-39NG project undertaken with a financial participation of Omnipol on pages 20 and 21.
I must, however, mention yet another, no less important autumn event of which we are also a media partner for the Czech Republic, namely the FUTURE FORCES FORUM held on October 17 to 19 in Prague. It represents a new concept of events and activities focused on long-term support of both domestic and foreign partners of local industries, science, research and education in the field of defence and security.
On the occasion of the events mentioned above, we asked, after a year, General Director of the Customs Administration of the Czech Republic Brigadier General Milan Poulíček, M.A., for an interview, who mentions, inter alia, the key prerequisites of proper performance of the Customs Administration´s duties. The following pages provide a brief outline of the development strategy of the Fire Rescue Service of the Czech Republic, including how the FRS is expected to look like in 2021. There is also an interview concerning NSPA activities and the involvement of Czech defence industry companies in the agency.
By way of conclusion, I would like to mention globally successful Czech companies which will present their unique portfolios and new products in this issue, for example Česká zbrojovka, REDO, Explosia, Koutný, AURA, AGADOS, ERA, OPTOKON, MESIT and many others. I will look forward to meeting you at the events mentioned above and our joint MS Line/Defence and Security Industry Association of the Czech Republic stand at the Future Forces Forum.
Elektronická verze časopisu
: